Mold flow and Stress analysis, Expert Witness, Consulting, DOE & Design
---
APD / Advanced Plastics Design, Inc.
Expert Mold flow, Cycle time, Shrinkage, precision Cooling, Warpage, Stress (e.g. Top Load) and Thermal analyses supported by decades of hands-on precision molding skills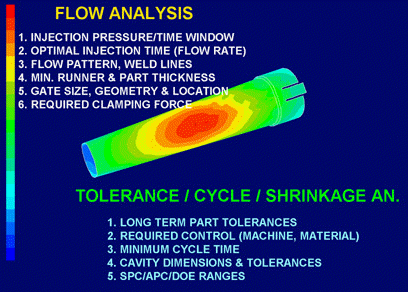 Toro's Blower Tube (click on >> case study).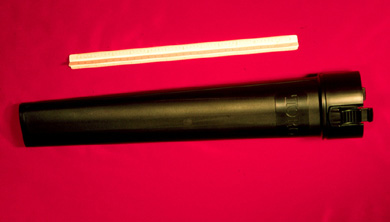 Injection Molding Engineering / Analysis(Flow, Shrinkage, Tolerance, Cycle time, Cooling, Warpage, FEA Stress(e.g.Top Load) and Thermal) ... Consulting ... Design ... DOE ... Troubleshooting ... Training ... Expert Witness ... Expert Testimony ...
Based on extensive experience we offer the following injection molding services since 1983:
CAE: Optimization / Analysis of Mold Cooling, precise Shrinkage & Part Tolerances, accurate Warpage, Minimum Cycle Time, Stress(Top Load) and Robust process.

CAE: Optimization / Mold flow analysis of injection molds and extruder dies.

Consulting, DOE(DOX), Troubleshooting of existing molding and warpage problems by employing physics-based, systems approach.

Training: Integrated, scientific and hands-on courses for management, process engineers and setup personnel (Robust process, Productivity, Efficiency, DOE and near 100% Quality monitoring).

Expert Mold design review and Process Troubleshooting with or without KistlerŪ instrumentation..

Prototyping / Insert and ASTM test specimen molding.
Our office is located at: 7 South Applewood Court, Fairfield (Cincinnati), OH 45014 (USA), the molding lab address is 11088 Southland Road, Forest Park (Cincinnati), OH 45240. We can be reached by phone at (513) 860-4585 or by e-mail at info@robustmolding.com
---